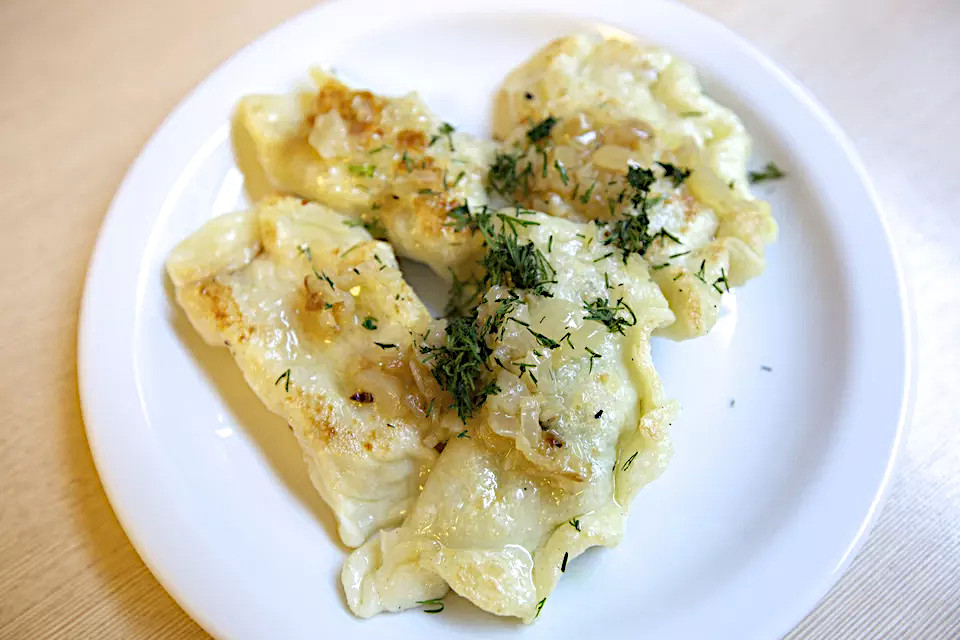 Prep: 10 mins
Nutrition Facts (per serving)
273
Calories
20g
Fat
16g
Carbs
8g
Protein
(Nutrition information is calculated using an ingredient database and should be considered an estimate.)
Sauerkraut and mushrooms are the perfect marriage in Polish pierogi, Polish naleśniki (also known as blintzes or crepes), and Polish uszka (known as "little ears"), Lithuanian koldunai, and kulebiak.
Since these are meatless-if using vegetable broth instead of chicken broth-they would be perfect for Lenten meals or for wigilia, also known as Christmas Eve supper, and fit for an ovo-lacto vegetarian. If you have any leftover filling, it freezes well.
Ingredients
1 quart sauerkraut (chopped, rinsed, and drained)
2 tablespoons butter
1 small onion (finely chopped)
8 ounces button mushrooms (finely chopped)
1/4 teaspoon salt (or to taste, remembering that the kraut is salty)
1/4 teaspoon black pepper
Optional: 1 egg (hard-cooked, finely chopped)
2 tablespoons sour cream
For the Pierogi Dough:
2 large eggs
5 tablespoons sour cream
3 tablespoons vegetable oil
1 teaspoon salt
3/4 cup chicken broth (or vegetable broth)
4 cups all-purpose flour
Steps to Make It
Make the Filling
Make the Pierogi Dough
In a large bowl, combine eggs, sour cream, oil, salt, and chicken broth until well mixed.
Add flour and knead by hand or in a stand mixer until the dough is smooth. Wrap the dough with plastic and let it rest at least 10 minutes. Alternatively, you can put it in the refrigerator for several hours or overnight. If you are doing so, allow it to come to room temperature before rolling it out.
Fill and Cook
You can freeze the pierogies before cooking if you want to make them ahead. Place the parchment-lined cookie sheet in the freezer. Once they are frozen, you can transfer them to a freezer bag. They can be stored for up to three months before you boil or fry them. Boil frozen pierogies until they rise to the surface, about 8 minutes.
Variation
You may enjoy pan-fried pierogies. Have the skillet ready as you are boiling the pierogies. You can use butter or a combination of butter and olive oil for frying. Pat the pierogies dry as you remove them from the water and transfer them to the frying pan. Fry approximately 4 minutes on each side until crispy.